5 reasons newsletters are a must for your B2B Business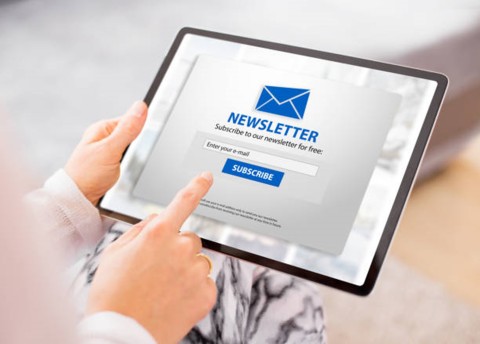 I am currently navigating the B2B SaaS world with Hurix digital. As part of our email marketing strategy, we decided to start a monthly newsletter for customers and potential prospects alike.
At Hurix our products have a very niche audience, so a monthly newsletter will deliver specific messages to particular profiles.
We know that newsletters are a great way to stay in touch with your customers and promote your business. But from our recent experiences it also turned out to be a great tool to nurture leads, showcase business expertise and educate buyers.
Our newsletter has not only delivered on brand engagement initiatives but also acted as a thought leadership outlet for our in-house expertise.
Over the past 5 months we have seen great success in reaching and engaging potential buyers. Our newsletter has consistently delivered high open, click and reply rates with relatively lower unsubscribes.
Here are 5 lessons learned from our newsletter journey that stand out:
1. Improves brand recall
Regular newsletters help keep your brand on top of your customer minds. It provides useful information for those nurtured leads as well as build trusting relationships with your current customers. Helpful nurturing with relevant content provides a chance to advance the interested in the sales funnel.
2. Acts as a thought leadership vehicle
At Hurix we have a niche audience and newsletters help to position us as an authority figure in the industry. We have a lot of in-house experts who write thought leadership articles and guides on our website. We decided to leverage their ideas to create authenticity and a genuine brand voice.

If your business also has a niche audience then leverage business expertise to create interesting content in your newsletters. This also establishes your brand reputation in the market.
3. Ditch selling and start educating
There are no quick wins in the B2B SaaS industry. Our potential buyers are suave, well-educated, and professional in their communication. As such we needed to position our newsletter as an educational outlet rather than a mere sales pitch.
Provide educational information and real value in your copy or link to opportunities for your audience to read. Example: We often link industry research reports for our users to read and comment on. Your audience will be happy to learn new insights from you.
4. Use for cross-promotion
Newsletters can help your efforts in other marketing activities: like registering for upcoming webinars, promoting the latest podcast, etc. We observe that blog and whitepaper items are clicked on a lot more than sales pitch links.

Any hot or trending topic you wish to talk about? Include it in your next edition and tie it in smartly with your services. Your newsletter helps in useful distribution of your resources and provides readers with some great material.
5. Learn from your audience
Analyzing the campaign reports provides you immediate feedback on what your audience wants and what they are interested in. Promote new products/services and analyze their reactions. Introduce a feedback form to collect their opinions and give them what they need in the next edition.

Improving and adapting your newsletter should be a continuous process. Grow and optimize your KPIs and gather data to check if your campaigns are on track.
Wrapping up
B2B newsletters are a low cost and scalable way to start your marketing flywheel and keep the momentum running for months to come.

It takes a lot of planning to start a newsletter, right from design to content. The key is to start and be consistent in your drive to educate the audience. It will pay back in dividends. Starting a monthly newsletter is a good starting point and does not pile too much pressure on your email team.
So, if you are a B2B business leader reading this, start a newsletter, engage your prospects/customers, get more deals and up your brand reputation game.