Friday Pitch Day: Email Marketing Software Buyer's Guide Released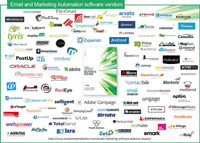 I am very proud to finally be able to reveal what we have been working on since Feb. of this year. Bruno Florence, Torsten Schwarz, Gabriele Braun and I created something I think unseen in our market, quite EPIC. Below more details and some stats, if you have any questions, or like to know more, feel free to shoot me an email jvrijn@emailmonday.com.
Email Marketing Software Buyer's Guide 2015 – 2016 in short:

In over 330 pages, the research provides detailed information on company, features and services of 111 email marketing and Marketing automation solutions. It includes aggregate industry statistics, a guide to the RFP and buying process, side by side comparison table and company profiles with in-software screenshots. With over 350 essential questions answered per vendor.
330 pages, 111 vendors
A guide to the RFP and buying process
Side by side comparison table of vendors
Company profiles with in-software screenshots and contact details
350 essential questions answered per vendor
Industry overview and average statistics
More information about the guide and purchasing via http://www.emailvendorselection.com/email-marketing-software-selection-buyers/
Some compelling stats from the report, because as mentioned it also has aggregated industry analysis in there.

Must-have functionality doesn't always come standard, cloud not the only option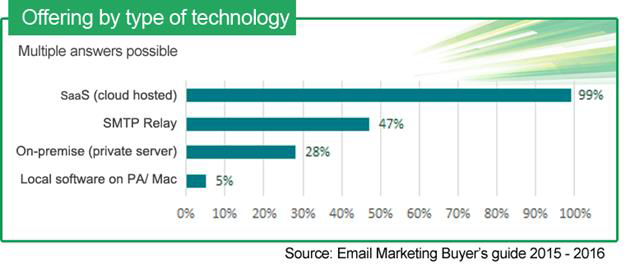 99% of email providers offers a SaaS solution, hosted on a webserver. In a world where everything seems to be "in the cloud", it is surprising that 28% offer their tools as On-Premise software as well. The vendors that offer the option say that considerations for using an email marketing solution on your own server are: Keeping data internal, reduce send costs and increased flexibility on your own technical developments.
SMTP Relaying is offered by 47% of providers as a separate service. An SMTP relay is a service limited to sending, tracking and simple reporting, meant to easily connect with the CRM, CMS and Webshop of the sender. It is often used for sending service and transactional emails. These mails should also have great deliverability, reporting and tracking.

Not all solutions are alike in width and depth of functionality. Often needed functions and services don't come standard. We picked some characteristics (from the 350 from the study) that are rarely present in the tools.
Mobile functionality is underdeveloped. Only 27% of the solutions offer a mobile application. 69% do allow for SMS marketing messages marketing messages to be sent from the platform, yet only 41% allows for push messaging to mobile apps. Interesting, seeing the adaption of mobile and increased use of mobile business applications and the Omni-channel paradigm. Smartphones and tablets, on average accounts for over 50% of email opens.
Targeting isn't always easy. Drag & Drop data selection for segmentation and selections is offered by only 35% of the 111 email marketing solutions. This is a popular feature, especially for the less technical and / or non-intensive users that still want to create targeted messaging. A functionality that is able to set a maximum to the number of messages sent to a consumer is only available in 51% of the tools.
Local time zone deployment is lacking. With this function the sender can schedule the email to go out at a set local time, no matter where the recipient is. a must have when sending international campaigns. Amazingly only 39% of providers offer this feature.
Jordie van Rijn of emailmonday, co-author of the report: "The email marketing channel is mature. 9 out of 10 marketers perceive email marketing as a channel of importance to great strategic importance for achieving business goals. The right expertise, services and tools is where the competitive differences are made. And big differences there are, as the study shows."

More information about the guide and purchasing via http://www.emailvendorselection.com/email-marketing-software-selection-buyers/