Latest Email Innovations: July Edition
Every Friday, Email Vendors get to pitch the OI membership on their latest tool or service. Below is the best pitches for the last 30 days:
Windsor Circle
Predictive Gender Targeting
Our data scientists have devised a way to leverage eCommerce purchase history to predict gender with higher accuracy rates that email address matching.
We make this a segmentable field that syncs seamlessly with your ESP (Oracle, Salesforce, IBM, NetSuite/Bronto, MailChimp, etc).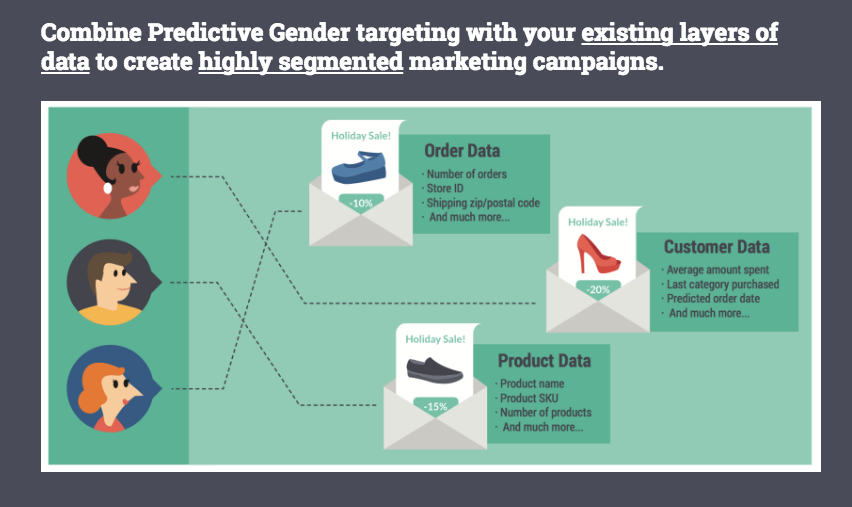 CommonDenominator
Whether it's media buying EBRs, consulting, backend/technology, deliverability or simply adops - CommonDenominator.email is exploding email programs and capabiliities of brands' and agencies'. SFMC and Marketo certified development but technology agnostic, with 1000s of publishing and advertising relationships, hands-on approach to deliverability and adops, backed by 15+ years experience in email - experience drives!
Single brand email program is typically handled end-to-end with this simple month-to-month engagement:
http://commondenominator.email/strategy-execution/
Everything is customized-to-be-optimized and we do have several supporting tools and services:
http://commondenominator.email/custom/
http://commondenominator.email/technology/
http://commondenominator.email/acquisition/
http://commondenominator.email/email-insight-reputation/
http://commondenominator.email/email-insight-inbox/
http://commondenominator.email/email-clean/
http://commondenominator.email/social-media-management/
Last but not least, we do offer 10% for life of a customer re-seller agreement if you know anyone interested:
http://commondenominator.email/reseller-partner-agreement/
Thank you. And looking forward to working with you for years to come.
Zeta Interactive
Our recent webinar on Holiday Preparedness is now available online for your viewing pleasure:
ExpertSender
I wanted to bring your attention to our Visual Marketing Automation Builder, which has undergone a series of updates and refinements since its release and is now ready for this announcement.
Our workflow tool allows marketers to build complex email marketing campaigns by creating predefined event sequences that automate customer and subscriber lifecycles.
With our workflow canvas, marketers can place drag and drop building blocks that are interconnected and executed in predefined sequences.
Each of these blocks represents either an event in the form of an activity, sending an email for example, or a decision point based on pre-set values, where leads are rerouted through the workflow down a specific path.
Workflows make it possible to simulate the steps in real world business scenarios such as abandoned shopping carts and welcome emails among others.
The drag & drop blocks that can be used in a workflow are detailed below;
Start & End events (describe a subscriber's entry/exit conditions for a workflow)
Send message
Delay (temporarily prevents subscribers from advancing to the next block in the workflow)
Set data (sets or changes a value of a data field in the database)
Data switch (provides different paths a subscriber can follow through a workflow)
A/B Split testing
Redirect groups of subscribers onto different paths
Each workflow can be customized with variables that are available only through the lifetime of a subscriber in a specific instance of the workflow. For example a different Order ID can be assigned to an email subscriber that made 3 purchases last week and has 3 instances at different stages of the post-purchase the workflow with 3 different Order IDs.
You can see an example of a workflow in play in the following article: