The Best of the Friday Email Pitches: November Edition
Every Friday, the members of Only Influencers get to pitch their latest tools and services. Below is the best pitches from the last month:
Taxi For Email
Elliot Ross: We're really excited to launch Segmentation in Taxi For Email!
It means that you can put powerful segmentation in the hands of marketers, so they can make great email campaigns with a few clicks - without needing to write complicated proprietary scripts or navigate complex interfaces. Then when they're done writing content and segmenting it, they can export into the ESP of their choice and send from there.
There is much more about segmentation in Taxi here - http://taxiforemail.com/blog/segment-your-audience-achieve-greater-results, and if you'd like to give Taxi for spin take a trial here - https://my.emailcms.net/signup or book a demo here - http://taxiforemail.com/demo.
---
Movable Ink
Amy Mullen: I'm sharing our Q3 Consumer Device Preference Infographics. They provide insight into consumers' adoption and use of smartphones, tablets and desktop computers and how they engage with email while using their preferred devices.
We have infographics for four industries - each available at the links below. Here's a summary.
Media, Publishing & Entertainment
---
Mailup
Massimo Arrigoni:
BEE, the embeddable drag-n-drop email editor, now provides flexible support for background images in email.
http://help.beefree.io/hc/en-us/articles/211955229-Adding-a-background-image-to-your-emails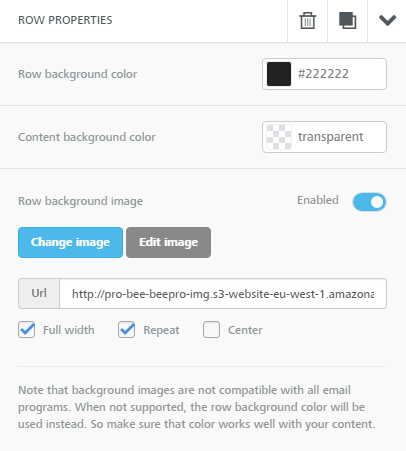 ---
eDataSource
Arthur Sweetser:
New Brand Compare Feature for Competitive Email Tracking from eDataSource
Did you know that marketers who use competitive intelligence applications generate 3X more monthly email marketing revenue than those who don't? This is a key finding from our recent research with The Relevancy Group.
As marketers, we are forever looking for new ways to identify, reach and engage with an increasingly astute customer. And staying ahead of the competition—while making rational decisions about marketing spend, strategy and tactics—has never been more overwhelming than it is today. That's why it's essential to know what's happening in actual consumer inboxes and have a process in place to harness the value of that insight and optimize your programs.
Now you can, using a game-changing new feature of our flagship Competitive Tracker product, Brand Compare. It's the fastest, easiest way to gauge your email performance across key metrics of activity and performance as compared to brands of interest to you.
Competitive Tracker lets you benchmark your efforts against real-time competitive data, understand what's working and what you can improve on, get new ideas and data to support new approaches, and plan ahead for important holidays or seasonal strategies. And now, Brand Compare makes it even easier by taking all of the powerful search functions of Competitive Tracker, and organizing them in on-demand customizable reports that you can save and view again and again via browser or email. You choose the timeframes you wish to evaluate, and within seconds you will see how the brands' email marketing efforts stack up against one another.
Clients including Staples, Zeta Interactive, Oracle Marketing Cloud, Mintel, Footlocker and more, are loving Brand Compare. They're saying that it's giving them easier access to the data, they love the ease of use and self-service nature of it, it's a timesaver, and much more.
Brand Compare puts 8 important email KPIs at your fingertips:
- Subscriber overlap
- Best and worst performing campaigns
- Message engagement
- Sender metrics
- Subject line word performance
- Campaign counts & volume
- Sample creative
- Inbox placement
So, if you want to know what's working in your industry, want new ideas, and are you interested in beating the competition, learn more about Brand Compare today!

---
Mailcharts
Tom Buchok: We're incredibly excited to announce the launch of the 2016 Holiday Email Marketing Report.
This report was carefully created with generous contributions from our friends at AWeber, Litmus, Movable Ink, and Return Path -- as well as helpful insight from Influencers at Phrasee, AlchemyWorx, Word to the Wise, Email on Acid, Rebelmail and Bounce Exchange.
Feel free to share internally with colleagues on your team, partners in the space or if you have customers who need some ideas for the busy season.
In addition to the insights and ideas, we modeled how and when retailers use promotions and discounts within their marketing. You can see a number of graphs to help out with crafting your offers and deals.
---
Hagopian Ink
Christina Hagopian: My team returned from the Litmus Email Design Conference and we have a key takeaway roundup to share:
http://hagopianink.com/journal/litmus-email-design-conference-recap/
We also wrote checklists for both holiday retail marketing and non-profit year end giving. Check them out!
Holiday Retail Marketing Checklist:
http://hagopianink.com/journal/holiday-campaign-checklist/
Nonprofit Year End Giving Campaign Checklist:
http://hagopianink.com/journal/year-end-fundraising-nonprofits/
---
Windsor Circle
Matt Williamson: For the more geeky among us, this post from one of our PhD data scientists about binary classification and its use in marketing campaigns (predictive gender, predictive gift giving, etc) should be a fun read:
Gifts and Mix Tapes: Methods for Evaluating Binary Classification Algorithms
http://blog.windsorcircle.com/gifts-and-mix-tapes-methods-for-evaluating-binary-classification-algorithms
---
Phrasee
Parry Malm:
We get asked all the time, "What type of split testing can I do in ESP X?"
So we compiled the split testing capabilities of a bunch of ESPs. We call it:
"Make like a banana and split: An awesome guide to split testing in ESPs"
https://phrasee.co/awesome-guide-to-split-testing-in-esps/
In it, you'll find out what sort of split/MVT testing capabilities are available in a bunch of ESPs. It's in alphabetical order, not order of preference (it's your lucky day, Adestra!)
Title:
Best Email Marketing Innovations
Audience:
Email Marketers
Publisher:
OnlyInfluencers.com
Copyright 2016
,
Only Influencers, LLC