You've hired them! Now, how do they become a trusted advisor?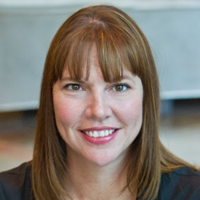 "How do you develop 80+ users to become your company's trusted advisors on using your automation tool, developing corporate strategy, and managing ongoing media evolution? "
Over this last month, industry bloggers, Sol Medvidofsky and Bob Frady, have written about hiring and the importance of a strategic team. I'm continuing that conversation and sharing how, once you've hired that star employee, you train them and help them be successful.
This is a strategic need and area of focus in our email organization because at any point in time we have 80 global database & direct marketing team members sitting in 24 different regions, supporting 40+ languages. Ultimately, we need all our teams globally to be the trusted advisors for the tools and for the email media.
The Problem: How do you develop 80+ users to become your company's trusted advisors on using your automation tool, developing corporate strategy, and managing ongoing media evolution? You also must account for constant global turnover, experience-level differences, and changing business needs.
The Solution: Develop a scalable, self-paced learning program. Additionally, provide a trusted support system that includes an extensive online community and help forum, global monthly touch points, and strategic alignment meetings.
Through the years, our on boarding program developed into three areas of curriculum . These areas also align to the broader organization's competencies and development plan.
1. Strategy, Vision, and Goals
First and foremost, the team members need to understand our company goals and our department strategies.
2. Tool Training and "How-To"
We created courses and modules that are divided into three skill levels . If an experienced hire comes into the team, they know what items they are expected to grasp at their level, and where to focus for growth.
3. Best Practices
We help to grow their industry knowledge and build their strategic abilities.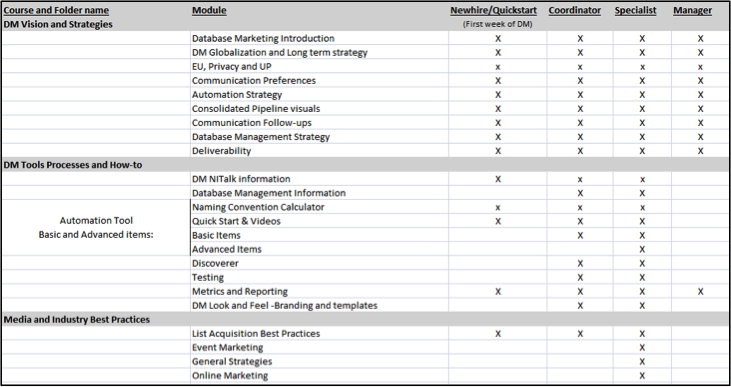 Since we are global, and have so many different types of learners, we employ several different tools and delivery methods to help our global team succeed.
1. Self-paced, on-demand training program
This is the first step and it is mandatory before having full access to the tools.
2. Internal "Help" team
It acts as an internal support agency and is the go-to team for all questions so the global teams can focus on regional expertise and not get caught "in the weeds" dealing with other items.
3. Standardized project templates & information within our collaboration tool
This consistency is very important to help global teams easily find information for all our 300+ programs.
4. Monthly Global calls in their time zones
They are same time each month so everyone plans for them. These focus on strategic updates and conversations easier to have outside of email.
5. Annual in person three-day summit
These have become one of the most important items. These focus on strategy alignment and additional tool training. Relationship-building between the teams creates an extended support system to ask, share, and brainstorm items in their time zones.
6. Industry events
To learn cutting-edge ideas and bring those back to others on the team.
To help explain the value of these training items to the organization, the KPIs and business metrics are:
1. Each team member up and running within five business days.
Using the quick start self-paced training program.
2. 100% accuracy.
We know that ultimately we are human and there will be mistakes, but we are customer-facing and we must have high standards.
3. A decrease of questions from the new employee to our 'Help' team after three months.
4. Be the trusted advisor.
Identified through peer feedback. Any gaps help develop future training modules.
5. Post-surveys results from the three-day summits.
Help show the value for spending the money to bring everyone together.
I hope the complex strategy that we've developed has given you insight and examples to help make your own team more successful. I'd love to hear any other ideas you have on how to become the trusted advisor for your organizations. Please share an additional strategy or comment below.